Excerpt:
Sandy Koufax©
"Pitching is the art of instilling fear. Show me a guy who can't pitch inside and I'll show you a loser."
Sandy Koufax
"She (Koufax biographer and Washington Post sportswriter, Jane Leavy) says she talked to 469 people and none had a bad word to say about him. 'Gentle' was the word she heard most often."
USA Today Book Commentary 2/12/2003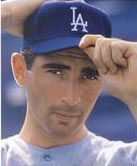 Sandy Koufax came from a broken home in Brooklyn, New York. He was born on December 30, 1935 to Evelyn (Lichtenstein) and Jack Braun. When Sandy was three, his parents divorced and for a while, he and his sister lived with their mother at her parents. When Sandy was nine, his mother married attorney Irving Koufax. For Sandy, Irving became his real father, a father who took the children to the Yiddish theater and encouraged Sandy's athletic pursuits.
Sandy was a gifted athlete who often shot baskets and played team sports at the Jewish Community Center. He loved basketball and his aggressive style of play led some to consider him "an animal." Among his high school basketball teammates was Alan Dershowitz. Koufax also played first base at Brooklyn's Lafayette high school, occasionally pitching in the Baseball Ice Cream League. In 1953, when he entered the University of Cincinnati to study architecture, it was on a full basketball scholarship.
The University of Cincinnati baseball team was headed to New Orleans and Florida to play games over the Spring break. To Sandy that sounded a lot better than heading home to Brooklyn, so he signed on to pitch for the road trip. In his first two games, he struck out 34 batters....